If you have lost your tooth or teeth, you may know about the difficulty in having your favorite food as it becomes really difficult to chew the food. Furthermore, you will find yourself pretty embarrassed while sitting among your family members and friends because missing tooth/teeth make the smile pretty unimpressive. In this scenario, you may be thinking about the
tooth/teeth restoration
. One of the options you can go for is the dental bridging. As the name suggests, a dental bridge mainly includes a prosthetic tooth which usually gets its support from neighboring teeth in different ways.
Dental bridges are of different types. Each type has its own way to fill the gap left by missing tooth/teeth.
Traditional bridges
This type of bridge is the most popular one. This type mainly involves dental crowns which anchor the prosthetic tooth/teeth, literally filling the gap by bridging. This bridge is supported by two healthy teeth located at both sites of the missing tooth area. Typically, the teeth, which are going to hold the crown, will be trimmed so that the crown can be adjusted on them. Between those crowns is going to be the prosthetic tooth or teeth which would fill the gap. Ideally, the bridge is of the same color as that of other teeth in your
mouth
. This match in color is essential if you want your smile to be flawless.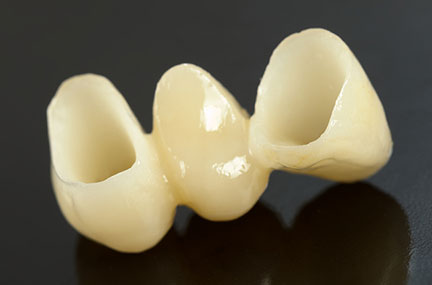 Maryland Bridge
A Maryland bridge uses an approach in which the safety and integrity of supporting teeth is ensured. A metal wire is used to hold neighboring teeth from their neck and prosthetic tooth/teeth fill the gap. Although this option is very popular, it doesn't restore full functionality. Hence, it may be a wrong idea to use this bridge in the place of missing teeth which would ensure bigger pressure during the food chewing process.
Cantilever Bridge
This bridge involves on crown and one prosthetic tooth. Although the crown acts as strong support for the prosthetic tooth, the entire bridge cannot be considered an ideal solution if you want to this setup to support chewing of foods. This bridge makes one tooth to do the job of two teeth. Thus, that single tooth can become more vulnerable.
Implant supported bridge
This one is perhaps the most reliable option especially if you have lost multiple teeth. In this setup, the prosthetic tooth gets support by the crowns fitted on
dental implants
. And the good news is that this bridge is even stronger as compared to the traditional bridges due to the fact that bridge is supported by dental implants, not by the trimmed teeth.